Introduction
My electric and acoustic guitars are both made according to the highest standards of craftsmanship. Every instrument is truly handmade from carefully selected and well seasoned woods.
I offer a series of custom designed standard models, but of course you can have any regular or rare model made to your own specifications. (See the "Specials" picture page)
With over 30 years of experience in making and repairing guitars, I can help and advise you to create the guitar that you are looking for.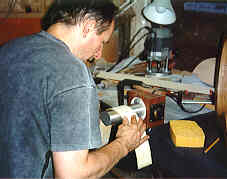 Bending sides for an Archtop
As a luthier I am always looking for new methods and ideas to apply into my instruments. My recent nylonstring "Tauriano" model, shows a different approach than you would normally expect from a nylonstring guitar.
Currently a new line of steelstring acoustic guitars and mandolins is being developped. So keep track and visit again to check on these instruments.

Sides ready for back&top plate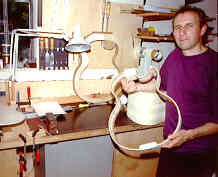 ---

Ellio Martina Guitars
Almenseweg 29
7211 MD Eefde - the Netherlands
Phone/Fax: +31 (0)575-511006
E-mail: ellio@elliomartina.com
---