The luthier's history
Nederlandse versie is in bewerking!
---
Working on a fretjob
---
How I became a luthier....
In the early sixties, I became very much interested in playing the electric guitar. Back then, there was not such an extended choice of brands and models as there is today. Fortunately it happened that I became friends with a guy named Roy Hendrik who was already involved in building his own electric guitar. Since this idea was very appealing to me and because I did not have enough money to buy one, we started to put our ideas and means together.
We also were very lucky with our starting conditions. My grandfather had a complete range of woodworking machinery in his company. Roy, who was a few years older than me, was already working in a tooling company where he could make the metal parts we needed. In a nearby village there was a small furniture manufacturer where we could buy our wood.
| | |
| --- | --- |
| In the years that followed after making our first instruments, we made a new one from time to time, improving the quality and the playability. Sometimes we would buy some of the parts we needed, varying from pickups to occasionally a ready made neck. However, most of the time we made (or were trying to make) our own parts. We were experimenting with winding our own pickups by using an old record player to wind the coils. At one point we even tried to make our own magnets by building some kind of transformer in order to create the magnetic field we thought that was needed to magnetize the metals. It was not easy to find the right type and sizes of magnets. The project failed......however, we succeeded in blowing the main fuse! | |
When the company that Roy worked for ceased all activities around 1970, he moved to another town and I continued making guitars on my own. In the meantime I studied mechanical engineering and played in several bands as a guitar & pedal steel player.
After graduating as an engineer, I work for some years on a 9 to 5 job. However, it did not combine very well with playing in bands and coming home late in the nigth. I also was not feeling very comfortable being restricted by a steady job. Finally, I decided to turn my hobby into my profession and quit the job to become a fulltime luthier in 1984.

On the road as a bass player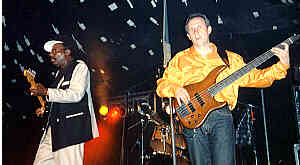 Touring with The Percy Strother Band
---

Ellio Martina Guitars
Almenseweg 29
7211 MD Eefde - NL
Phone/Fax: +31 (0)575-511006
E-mail: ellio@elliomartina.com
---